In early 2000, telescope manufacturer Meade Instruments Corporation entered into an agreement to manufacture ETX-125 telescopes for the laser communications equipment manufacturer and internet service provider Terabeam Networks.
Meade Instruments created the model ETX-125TB OTA (optical tube assembly), a white painted version of the very well made blue anodized Meade ETX-125 Maksutov-Cassegrain telescope. The ETX-125TB OTA was used as the receiving aperture for the Terabeam SAT (Single Access Transceiver). The SAT device was a near-infrared laser transceiver that was used to create point-to-point communication links, through office windows, using the air space between buildings. Data was transmitted at rates up to one gigabit per second.
Terabeam installed the SAT into free space laser communications networks in many cities including New York, Seattle, Denver, Los Angeles, and Dallas. Unfortunately, the cost for a link that used these devices was tens of thousands of dollars. After the telecommunications bubble burst in 2000, there weren't enough customers willing to invest in a costly free space laser internet connection operating at a gigabit per second. In response to these changing market conditions, Terabeam developed the smaller and less expensive Elliptica transceiver (shown below).

In the first few months of 2004, Terabeam Networks merged with radio frequency solutions provider YDI wireless (now Proxim Wireless). As a result of the merger, the Terabeam laser transceiver products were discontinued. The SAT transceivers and the unused inventory of Meade EXT-125TB telescopes soon found their way to internet auction sites.
Since the ETX-125TB was originally meant to integrate into the Terabeam SAT, there were no black plastic backs or mounts provided to Terabeam with the telescopes. In addition, there was no relief machined into the outer diameter of the rear of the telescope tube, that would allow for the plastic back to easily slide onto the ETX-125TB. So, to make the ETX-125TB easier to use, Wegat Optical developed an adapter that would allow owners of these telescopes to attach 2-inch accessories like those used on Schmidt-Cassegrain telescopes.
Meade Terabeam ETX-125TB Optical Tube Assembly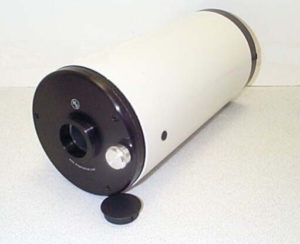 The White ETX-125TB Catadioptric Maksutov-Cassegrain telescope was originally designed, built, and aligned by Meade Instruments for Terabeam Networks in 2000. Although similar to Meade's commercial telescope, these OTA's include several quality upgrades.
Dimensions:
Length: 13 Inches (330 mm)
Outer Diameter: 5.75 inches (148 mm)
Clear Aperture: 5 inches (127 mm)
Secondary Mirror Obscuration: 1.55 inches (39.4 mm)
Focal Length: 74.8 inches (1900 mm)
Special Custom Features:
Finer focus control than standard ETX-125
Extended rear baffle design
Protective dust cap for the rear of the telescope
Larger focus knob for more comfortable grip
Wegat Optical custom black anodized 2-inch Accessory Adapter
The ETX-125TB OTA is suitable for use in laser communications, LIDAR, astronomy, astrophotography, and general photography applications. With a weight of about 8 pounds, it makes a great "grab and go" telescope.
An aluminum adapter for the ETX-90 was also designed to allow for use of standard ETX accessories. By removing the black plastic back and fork mount, the ETX-125 and ETX-90 Accessory Adapters can be easily attached to any Meade ETX-125 telescope and most ETX-90 telescopes, manufactured prior to the Meade Observer Series.
For many years the Wegat Optical accessory adapters have been used to retrofit optical tube assemblies and create many impressive customized telescopes. View Gallery >
Questions or comments? Let us know!